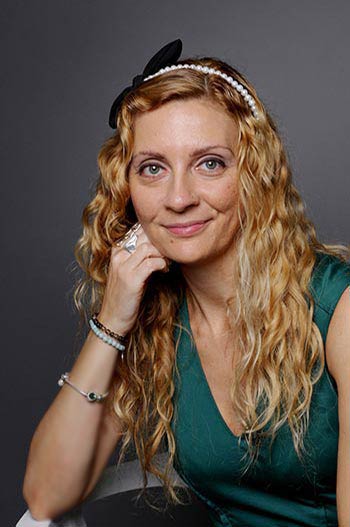 Lydia Lukidis is a children's author and freelance journalist. Her passion for reading and writing began at a very young age, when she was a voracious reader and composed poem after poem in her journals. She later acquired her Bachelor degree in English Literature from McGill University and her love for the written word continued to grow.
Lydia's mandate as an artist is to provoke thought and feeling while having a positive impact on children. Cut to today; she has published over 40 children's books and eBooks, both fiction and nonfiction. She has also written over thirty educational books with publishers such as Houghton Mifflin Harcourt and Kane Press (a division of Lerner), and her latest STEM book The Broken Bees' Nest was nominated for a CYBILS Award.
Her background is multi-disciplinary and spans the fields of literature, science and puppetry. She got a degree in Pure and Applied Science and now integrates that knowledge into her children's books. She's especially fond of writing books with exciting STEM topics, while keeping the text accessible and fun for young readers. Her early background also includes puppetry, where she co-wrote and co-produced five plays for Panadream Theater. These plays for young audiences were told through the eyes of string marionettes. Her award winning play Yorgo & the World was selected to be part of the prestigious 2012 World Puppetry Festival in China. Her plays were presented at many international festivals and she collaborated with companies like Cirque du Soleil for several special events.
Promoting literacy is also important to Lydia and she regularly offers writing workshops and school visits for children aged 5-12. Her goal is to help children cultivate their imagination and sharpen their writing skills while developing critical thinking and self-confidence. She is currently part of the Culture in the Schools Program organized by the Ministre de Culture et Communications Québec. These workshops are subsidized by the Quebec Government.
In addition to her work with children, Lydia is a freelance journalist for magazines and websites, and primarily focuses on such topics as education, parenting, and wellness. She also does conceptual work for creative companies such as Moment Factory, where her latest project was to collaborate on a family show for Royal Caribbean International.
Lydia is represented by Miranda Paul from the Erin Murphy Literary agency.