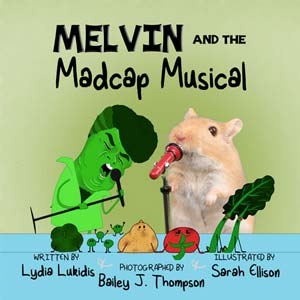 Melvin and the Madcap Musical
Ages: 3-7 years
Synopsis:Tap dancing zucchinis? Crooning collards greens? Gigantic squash trapeze artists? These are just a few of the zany characters in Mr. Broccoli Bob's all vegetable cabaret. Melvin watches in wonder as Savage the Cabbage belts out rock n' roll tunes and Monster the Mushroom pounds on his drums. Melvin comes to realize that not only are these vegetables entertaining, but they are also nutritious and delicious. This is the perfect picture book to entice little ones to appreciate the many benefits of vegetables!
Genre: Fictional picture book
ISBN: 978-0991740284
BUY: Amazon.com Amazon.ca Chapters Indigo Publisher
Reviews:
"Melvin and the Madcap Musical" captivated my 4 and 6 year old's imagination, helping them visualize a new world filled with vegetables and inventing stories on their own. Lydia has a way of stimulating kids' imagination and helping them discover new worlds."
-Nick Day, parent
"This book is so animated and lively! The writing has great cadence and is filled with wonderful rhymes. It's really fun to read and the best time my child has had with vegetables in a long time."
-Kim Fleming, children's illustrator
"Wow! Children will REALLY begin to love their vegetables with the reading of this exceptional children's book about nutrition. This book should be in every household and referenced often. It is informative in an amusing way!"
-Melvin McKenzie, author
"This is a great book for children. The illustrations are funny and match the storyline perfectly. The book also gives a good lesson about eating healthy. Melvin is very cute as well. It's very cute!"
-Marie Tayse, parent
Gerbs in the House: The Dilly Dally Bedtime Routine
Ages: 3-7 years
Synopsis: Mocha says it's bedtime, but Petri wants nothing to do with it! Reading books, singing lullabies and juggling plates are only a few of the things Mocha does in an attempt to tire his son out. Although Petri is entertained, he still refuses to sleep. He just wants to dilly dally! Worn out by his son's shenanigans and silly antics, will Mocha ever get Petri to bed before losing his marbles?
Genre: Fictional picture book
ISBN: 978-0-9917402-7-7
BUY: Amazon.com Amazon.ca Chapters Indigo Publisher
Reviews:
"Gerbs in the House: The Dilly Dally Bedtime Routine is wonderful! It combines an excellent story with top-rate rhyming verses and hilariously whimsical imagery. This is a tale that is sure to delight both adults and children and will make an especially fun 'read aloud' story."
-Meagan Meehan, children's author
"Five stars! This book is incredible. My boys loved the pictures of the gerbils in the different scenes. I had to stop a couple times because they were laughing so hard. As a parent I can relate to the subject material. I found myself nodding along with the story. I can see this being a very common bedtime story. A definite must read if you have young kids!"
-Reviewer for My Life, Loves and Passions Blog
"Gerbs in the House: The Dilly Dally Bedtime Routine is a cute book for young children. The story has rhyming verses that really draw you in. It is extremely creative and original; a great book for young children and also fun for parents to read aloud."
-Bound4Escape Book Reviews by Dawn
"My daughter not only loved the book but she also loved the photographed images of the gerbils in the dollhouse mixed in with the illustrations. The combination artwork and photographs of real life gerbils in this book was new for my kids and I."
- Adalinc to Life Book Reviews by Bonnie Dani