The students of Evergreen Elementary School.
Lydia offers writing workshops for children from Kindergarten to grade six (including special needs). She is currently part of the Culture in the Schools Program organized by the Ministre de Culture et Communications Québec. These workshops are subsidized by the Quebec government, and interested schools may apply HERE. The workshops are also available for libraries, community centers, camps and private functions.
Each workshop begins with an initial presentation where Lydia will discuss her published works and give a brief overview of the publishing industry. She will then introduce various games and fun activities that put the spotlight on children's literature. Following this, students will be guided through a brainstorming session for that particular workshop. They will write, discuss and draw out their ideas in order to generate inspiration. They will work alone or in groups depending on the circumstances. Lydia will propose various exercises to get the creative juices flowing and will help the students develop their ideas. At the end of the workshop, some students will have the opportunity to present their work to the rest of the class. Hand-outs, study guides and follow up activities will be provided.
These workshops are an excellent opportunity for students to:
sharpen writing skills and improve literacy
collaborate
increase self-confidence
develop analytical and cognitive skills
cultivate imagination
tap into creative self-expression
There are currently nine different workshops available. The exercises and content will be appropriately tailored to the age and abilities of the students. Lydia is also available for school visits and public readings, please contact the artist for rates and information.
1. Story Making 101
Students will be introduced to the various genres of literature as well as the main elements in stories, with a particular emphasis on conflict and why it's vital. The goal is for children to learn how to structure a simple narrative plot. Popular stories will be examined in order to serve as examples, and story maps will be provided to help the students organize their ideas. The students will then create their own original tales. For the younger students, the author will read one of her picture books to serve as an example, and the children will draw out their ideas.
Length: 1 - 2 hours
Levels: 1-6
2. Character Development
What makes a character unique and memorable? How does one create and develop a fictional character? These questions will be explored as students invent their own unique character. They will develop comprehensive character sketches that will bring these people, animals and creatures to life. For the younger students, the author will read one of her picture books to serve as an example, and the children will draw out their ideas.
Length: 1 hour
Levels: K-6
3. Fairy Tale Magic
This workshop will examine the historical tradition of fairy tales as well as their typical characteristics. Some popular tales will be discussed and examined in order to serve as examples. Students will then have a chance to create and write their own unique fairy tale with a contemporary twist. For the older students, the concept of fractured fairy tales will serve as a starting point.
Length: 1 - 2 hours
Levels: 1-4
4. The Power of Mythology
What is the difference between a story and a myth? This workshop will examine the history of mythology as well as its traditional and cultural relevance. Popular Greek myths and folk tales will be read and discussed in order to serve as examples. Once the students understand the basic characteristics of myths, they will then create their own original versions. Students will focus on the archetype of a "quest myth."
Length: 2 hours
Levels: 4-6
5. The Art of Poetry
In this workshop, students will study the various components of poetry. By reading poems, doing various exercises and discussing concepts, they will learn how to construct their own poems. Younger students will examine rhyme and flow, while older students will explore figurative language such as metaphors, alliteration, personification and onomatopoeia.
Length: 1 ½ - 2 hours
Levels: 2-6
6. Personal Narratives
Students will learn how to formulate a personal narrative drawn from their own experience. They will be introduced to various writing and will brainstorm ideas and organize their thoughts by using story maps. Once they're ready to begin writing their personal narratives, they will learn about the importance of a "writing hook" and a strong lead to engage their readers. They will also be taught how to use their five senses to add enriching and descriptive details.
Length: 1 hour
Levels: 2-6
7. Let's Write a Book!
In this three part workshop, students will collaborate to create a book about a current social issue. The class will explore a specific issue and this will serve as the starting point of the story. The students will then learn how to structure a narrative plot by doing various exercises on the genres of literature, the main elements in stories as well as the importance of conflict and resolution. Once they have a good grasp on these subjects, they will start brainstorming ideas for their own book. They will collectively create the plot, setting, character sketches and chapter outlines, after which the story will be written and put together to create the final draft. Students will then draw pictures to be included in the book. Once the workshops are completed, the presenter will arrange the graphic layout and will get the book printed and bound. The school will be mailed the final print copy.
Length: 3 workshops of 2 hours each
Levels: 1-6
8. Author Reading with Puppetry Workshop
This workshop will begin with the author reading some of her picture books, followed by a brief presentation on children's books along with some fun games. After this, the students will create their own unique paper bag puppet and learn how to manipulate them. The puppets will be based on the characters from the author's stories. All materials will be provided.
Length: 1 hour
Levels: K-3
9. Advanced Narrative Building
This advanced workshop is for students who have a high reading and comprehension level, as well as a keen interest in literature. They will focus on narrative building and the presenter will introduce concepts such as effective story / character arcs, the importance of tension, showing versus telling and creating authentic dialogue in order to improve the quality of their writing.
Length: 2 hours
Levels: 6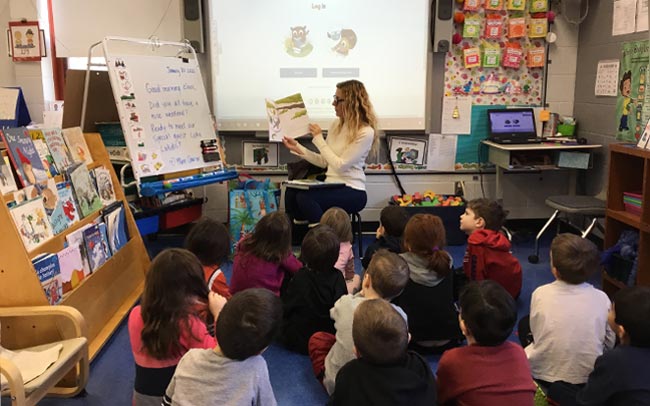 The students of Evergreen Elementary School.
Feedback from Educators
"Lydia's story making workshops were captivating! They provided a hands-on opportunity which really benefited the students for their Ministry ELA exams."
-Christina Bakalis, grade 4 teacher, Westpark Elementary School, LBPSB
"Lydia's dynamic personality captured my students' attention from the start. They were engaged in her presentation and have been inspired to continue reading and become better writers."
-Elisa Infusini, Grade 6 teacher, Honoré Mercier Elementary, EMSB
"Lydia's student centered approach is engaging, dynamic and promotes independence. The students were enthusiastic about their writing and anxious to continue their work."
-Shauna Beauchamps, Literacy Teacher, Evergreen Elementary, LBPSB
"Lydia is passionate about books and reading, and this came through in her workshops. The students were very inspired by her presentation, and were excited about their own stories."
-Janet Rodger, grade 3-4 teacher, Merton School, EMSB
"My students were active participants throughout Lydia's lessons. The character development and myth creating exercises will surely increase their success during their ministry exams."
-Krystina Palladino, Grade 5 teacher, St. Paul Elementary, SWLSB
"Our students enjoyed Lydia's engaging and hands-on workshop. My students were very excited about the characters they created during and took pleasure in making up stories with them."
-Megan Martin, Grade 1-2 teacher, Franklin Elementary, NFSB